Beautiful waterproof interiors
How the commercial residential sector benefit from Multipanel
• Wall panels are three times quicker to install than traditional tiles
• 15 year warranty
• Reduce cost both in materials and installation
• Reduce maintenance requirements
• Have no grout and are simple to clean
• Are supplied on a just-in-time basis to suit new build programmes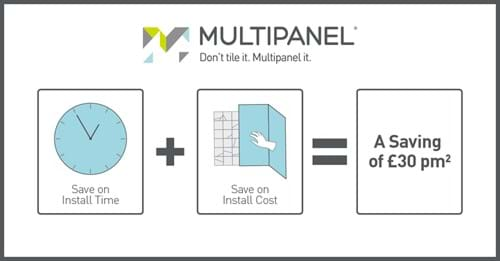 Key considerations for new homes
New build developers face many challenges including regulatory frameworks, the need for more housing stock, faster construction and maintenance, as well as a duty to accommodate those requiring increased accessibility. Multipanel products improve speed of build and provide a number of other key benefits including reducing maintenance and vacancy downtime.
Increased speed of construction
Speed of construction is crucial in new homes and Multipanel wall panels can be fitted in 24 hours compared with 3-5 days for traditional tiles. Rapid install can be achieved because Multipanel can be fitted straight onto timber frameworks or over existing tiles and there is no need to wait for specialist trades.
Multipanel walls have a tongue and groove joining system called Hydrolock, which is unique to Multipanel. Hydrolock allows multiple panels to click into place providing a rapid refurbishment solution for bathrooms.
Reduced maintenance costs and occupancy downtime
One of the major challenges for new build developments is that bathrooms need to be refreshed for incoming tenants. These issues can be dramatically reduced with the use of our bathroom wall panels as all they require is a simple wipe down with a non-abrasive detergent to maintain a pristine condition well beyond the 15 year warranty.
Value for money
Not only can Multipanel reduce installation costs by up to £30/m2, lifetime value is also impacted as our panels come with a 15-year warranty with little to no snagging or maintenance required during this time.
Start today
Contact our team today to discuss the time and cost benefits of Multipanel when installing bathrooms in the commercial residential sector.