When refurbishing your bathroom, you may want to look for an alternative to tiles as they are becoming increasingly dated and require high maintenance. The world of interior design has evolved and much more modern, user-friendly options have emerged. Shower panels, which you might know as shower wall panels, wet wall panelling, shower boards or simply bathroom wall panels are paving the way forward, offering multiple benefits for customers looking for an easy to fit, waterproof panelling system for shower walls.
Whether you are looking for a complete revamp or putting a modern twist on your bathroom or shower enclosure we offer bespoke, stunning modern alternatives to tiles. We supply a wide range of waterproof wall panels, floors and ceilings, all available in a broad variety of colours, finishes and sizes to perfectly match your interior tastes.
For those of you that have not encountered bathroom wall panels before, here are a few things to consider and why wall panels are the modern way forward. 
Multipanel's shower wall panels are grout-free
Whilst tile installation can be a chaotic task, Multipanel wall panels enable grout-free, quick and easy installation which massively reduces turnaround times and any unnecessary stress. Our range of shower panels are 100% waterproof and can be applied directly to almost any surface including tiles, concrete, plaster, plasterboard, chipboard and plywood, or as part of a new installation. Our products can transform your bathroom or shower enclosure instantly, giving them a modern finish.
On top of being quick and easy to install, our bathroom wall panels require very low maintenance. Actually, no grout means you can say goodbye to annoying mouldy stains and endless hours of cleaning. Multipanel shower wall panels are simple to clean through the use of warm water and a non-abrasive mild detergent.
Choose from more than 100 different decorative wall panel designs
The variety of our shower boards allows you to completely personalise your bathroom choosing from a great diversity of colours, textures and finishes.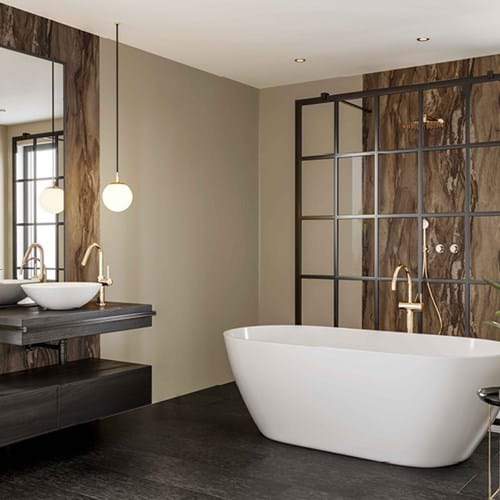 Some of the best selling wall panels are from the Linda Barker Collection and its easy to see why. Stunning wood, stone and marble bathrooms can be achieved using decors such as Salvaged Planked Elm, Concrete Elements and Calacatta Marble (view our gallery to see more).
Wall panels in the Linda Barker Collection pair perfectly with panels from the Neutrals collections.
Order samples and find your match today.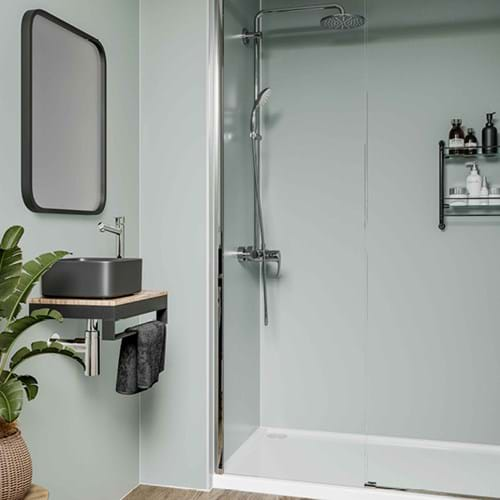 Shower wall panels in the Heritage Collection can transform your bathroom into timeless tranquillity with its subtle tonal changes, complementing neutrals and traditional charm. These panels come with a textured finish, are made from FSC certified (FSC® C128180) 11mm waterproof plywood and available with our Hydrolock edge for a near seamless finish to your bathroom.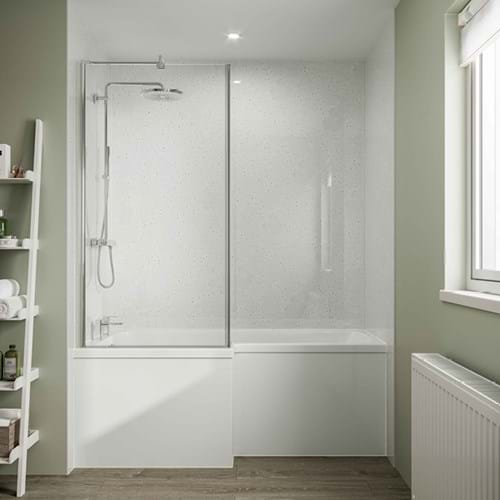 Our most popular range, the Classic Wall Panel Range, offers a wide selection of colours and textures in stock designed to complement the interior décor of any bathroom. These shower wall panels are made of 9mm waterproof plywood core with a high pressure decorative laminate bonded to the face. With gloss or textured finishes, we offer a range of natural stone, precious stone and marble effects. As an alternative to using end caps, our Classic wall panel range can be 'lipped' with a PVC edge to complement your chosen decor.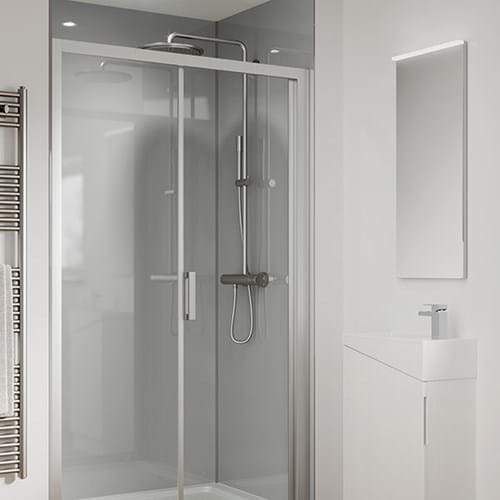 Our Reflect Wall Panel Range gives the illusion of glass thanks to our decorative panels' dual layered acrylic, creating bathrooms with stunning depth. Choose from our range of colours that best complement your interiors to create a unique and modern twist in your shower enclosure. These 4mm thick acrylic bathroom panels have a hard-wearing finish and are easily cut and fitted to add a sense of luxury to any bathroom.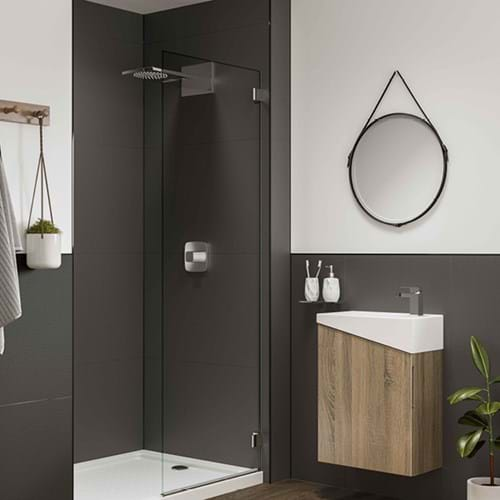 If you prefer the traditional look of tiles, we have got the bathroom panel for that! You can keep the authentic aesthetic of tiles, with the ease of installation of shower boards. Our tile effect bathroom wall panels are designed with simulated tile effects, allowing you to enjoy the authentic look of tiles without the inconvenience of grout. Bevelled tile and brick panels are available in gloss, and embossed tile panels are available in gloss and matt.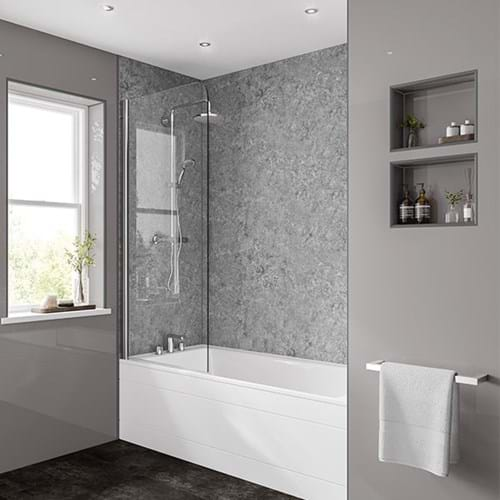 The Economy Wall Panel Range is a cost-effective alternative when renovating your bathroom. With 1m wide tongue and groove installation, you can complete bathrooms and shower areas in hours rather than days. Our practical PVC bathroom wall panels front a clean design with the choice of six colours, providing the perfect bathroom cladding solution to match any budget.
In addition to our wall panels, we also provide bathroom flooring and ceiling panels. From waterproof bathroom wall panels, flooring and an extensive range of decorative finishes we have everything you need to create your dream, waterproof bathroom.