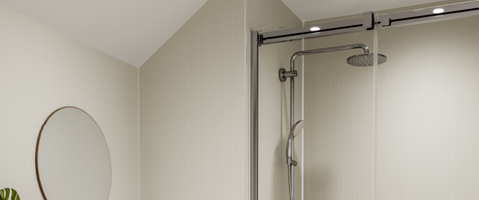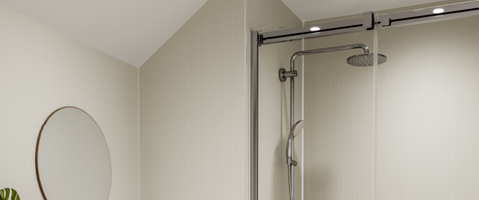 Interior Designer vows Multipanel offers a stunning solution for transforming your home
Glasgow based, interior designer, Silvia Cifferri was so impressed with Multipanel products that she decided to use them in her own home
Order samples
Glasgow based, interior designer, Silvia Cifferri was so impressed with Multipanel products that she decided to use them in her own home. Silvia was looking to revamp a number of rooms including two bathrooms and a kitchen and felt that Multipanel would give her an aesthetically pleasing, practical and durable solution. Silvia decided it was time to renovate her flat in order to reflect her own personal styles and taste. Silvia has a love for bright, vibrant colours and felt that Multipanel was able to cater to this need.

Silvia was introduced to Multipanel bathroom wall panels through a sales assistant at Richmond Baths, Glasgow. Multipanel products were described to her as versatile and high quality. This initially prompted Silvia's transition to Multipanel, alongside the fact that Multipanel products are Made In Britain from Forest Stewardship Council (FSC Cert No: 128180) materials and the fact they offer a wide range of colours.

Silvia commented:
"I have used the wetwall, wall panel and tiles in few projects with an amazing result. The wooden floor tiles can really mistaken for real wood. Beautiful good quality products and easy to work with; my builder has never complained about installing them which makes me think they are easier to work with than others are. I will use Multipanel again in the future."
Silva's transformation displays the epitome of a 'tired to inspired' interior facelift. The results are nothing short of stunning.