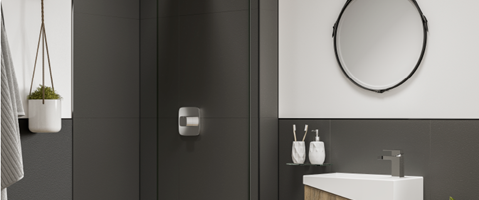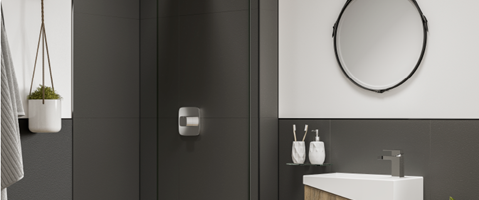 For many of us, when redecorating a bathroom the first thing we think about is what to do with the walls. Because tiles have been such an intrinsic feature of the bathroom, it's not surprising we rarely seek out an alternative…enter waterproof wall panels: tiles, it's time to move on.
Waterproof wall panels from Multipanel are a great alternative to ceramic wall tiles. Not only do they provide a 100% waterproof finish, they are much faster to install and are much easier to clean and maintain than traditional tiles. That's because there is no grout involved, which often encourages unsightly mould to flourish and can discolour over time.
Multipanel waterproof panels are a modern, versatile tile alternative for decorating bathroom walls. Suited to all sizes and shapes of bathrooms, wet rooms and cloakrooms. Panels in the different Multipanel collections can be mixed and matched to create a unique look; while pairing them with walls painted in contrasting colours is also highly effective.
Multipanel waterproof wall panels can be fitted directly on top of existing tiles, stud walls, wood or even concrete, and can be ready for use in just 24 hours. The reduction in labour costs and the fact that you don't need additional trades such as tillers to install them can make waterproof wall panels a cost-effective solution.
Can you achieve a high-end tile effect wall without the hassle of grout?
With the Multipanel Tile Range, you can replicate the authentic look of real tiles without the attendant messy installation or on-going cleaning and maintenance issues associated with ceramic tiles. And, having dispensed with grout you'll also be saying goodbye to any issues with mould.
The Multipanel Tile Range of wall panels offers you tremendous scope for quickly creating luxurious high-end tile effect walls in both wet and dry areas of your bathroom and are available in a variety of formats. Constructed from high pressure laminate, panels in this collection are only 3mm think so are perfect for installing over existing tiles.
If you believe that bigger is better, the Multipanel Large Format Tile panel, might be exactly what you are looking for. With the texture of ceramic; deep faux grout lines; and a tile format measuring over half a metre, these panels are a great choice for creating a feeling of opulence and space.
If you need to get as much light and reflection as possible into your bathroom space, the chic look of the Multipanel glossy Embossed tile panel will work well. For a touch of nostalgia, consider the ever-popular Classic Brick range, inspired by iconic tile arrangements and designs such as the London Underground, these also come in a gloss finish and create a sharp sophisticated look.
Whether you opt for the convenience of a shower over the indulgence of a bath, tile-effect waterproof panels offer the same beautiful high-end look as traditional tiles, but without the disadvantages discussed above.
Tile Alternative Plywood Panels
If you prefer something other than a tiled-effect wall, the gorgeous contemporary waterproof panels in the Linda Barker, Classic and Heritage Collections from Multipanel provide great alternatives for bathroom walls. With timeless colours and finishes; designs inspired by nature; and cool tones and subtle hues, which feature in these collections, you have boundless possibilities to create an area of outstanding beauty in your own home.
Waterproof shower panels in these collections come with the added benefit of the precisely engineered Hydrolock® edge detail for a discreet almost invisible watertight joint, where panels meet.
Manufactured in the UK using materials sourced from FSC certified wood, these panels have a plywood core and are 100% recyclable.
An added benefit is that they come with a 30 -year guarantee.