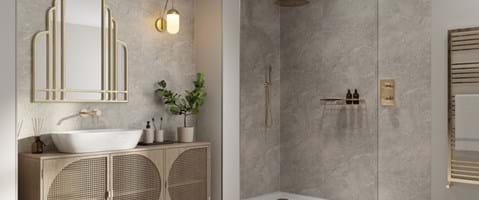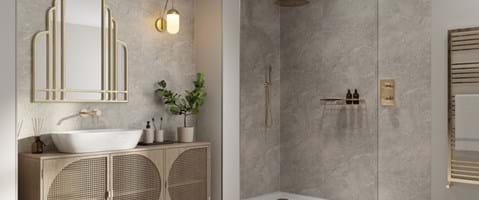 Sustainable Multipanel
As the UK's leading waterproof wall panel brand and the only UK based wall panel brand to be Forest Stewardship Council (FSC) and Made In Britain certified, Multipanel is not only committed to delivering environmentally conscious products but is also focussed on creating more environmentally friendly business practices too.
Order samples
Multipanel is the only waterproof wall panel manufactured in the UK that is Forest Stewardship Council (FSC Cert: C128180 ) and Made in Britain – officially certified. 
The sustainable choice for bathroom walls
As the UK's leading bathroom wall panel brand, manufacturing sustainable products is a priority for us, with quality and environmental responsibility at the centre of our core values.  Upholding these values ensures all products meet the high standards demanded by our customers and minimise the impact on the environment.
All manufactured panels are FSC-certified with full chain of custody.  This ensures that the timber used in these collections originates from responsibly managed forests and the finished products comply with globally recognised ecological, social, and economic standards.
These certifications form part of a rolling programme of environmental and sustainability initiatives within the manufacturing and design processes.
This includes reducing energy in transportation by sourcing materials made in the UK and recycling 100% of post-production waste into biomass fuel and other products, not only reducing waste sent to landfill but also contributing to the circular economy. We also separate recyclable waste such as paper, cans and plastic from other areas to further reduce our impact on the environment.
100% recyclable panels
We have held FSC certification since 2015, providing both us and our customers with the peace of mind  that the materials using in our products come from sustainably managed sources.
Our high-quality engineered panels are available in a carefully curated range of designs and come with a 30-year product warranty, as well as being 100% recyclable. 
"When asked recently why we only use FSC certified timber and high-pressure laminate in the manufacture of Multipanel, my response was simple, because we care! Using sustainable materials may cost more, but they don't cost the earth." Sarah Law, Managing Director of Grant Westfield.
Inside the Multipanel factory (c) Multipanel
Sustainable workspaces
As part of our sustainable movement, there is a focus on creating an environmentally conscious Head Office.  This is reflected in the installation of 190 electrical solar panels on the Head Office roof, sourcing approx. 40,000 kwh per year. 
In addition, we are committed to implementing an electric and hybrid company car policy across the sales teams. There are also electric car charging points in Multipanel's car park, providing staff with easy access to free and fast electric vehicle charging.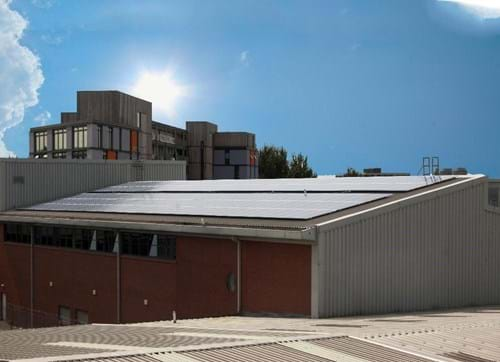 Multipanel's Head Office solar panel roof
Find out more at www.multipanel.co.uk/accreditations and https://www.multipanel.co.uk/about-multipanel/responsibility/