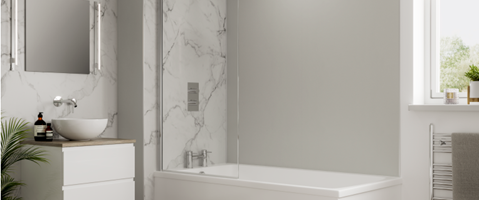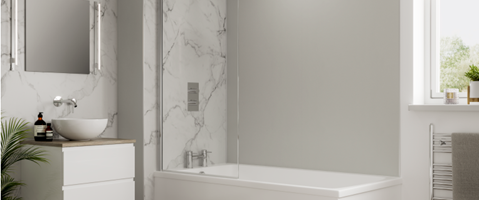 The appeal of marble has lasted through centuries, its natural beauty lending itself to some of the most famous works of renaissance sculpture, iconic buildings and monuments. Its high-quality appeal has meant that it has become an increasingly popular material for use in sophisticated household designs.
Using marble in your bathroom design however does not come without its issues. Marble is porous and because it is a relatively soft stone it can be quite absorbent. This can mean that oils and stains from such things as toiletries and hair dyes, can seep into the stone. It is also soft enough to allow etching, which simply means that water and acids – from some cleaning materials -may leave small marks visible on the surface. For this reason, it is recommended that marble surfaces are sealed regularly in order to preserve the quality of the stone.
Apart from the need to be diligent about maintaining it, there are also environmental considerations that may put you off opting for marble in your bathroom revamp. The mining, treating and transportation of the stone all add to the carbon footprint involved in producing the bathroom of your dreams, not to mention the cost.
The authentic look of marble at a fraction of the cost
The great news is that with modern waterproof bathroom wall panels – you can achieve the luxury look of a marble bathroom without the hefty price tag. And you are not just winning on cost alone, Multipanel waterproof wall panels are manufactured in the UK using FSC certified materials. Easy to install and a breeze to maintain, a simple wipe down is all that is required to keep them looking good for years to come.
Calacatta Marble is both elegant and visually stunning. The look provides a gentle, comforting appeal that works so well in a bathroom environment creating a sense of opulence and calm. This design is just one of a range of authentic looks from the natural world, available from the Linda Barker Collection from Multipanel.
You might also consider one of the stunning designs from the Multipanel Classic Collection. Designed to create a wow factor in your home, finishes such as Classic Marble, Grey Marble or Antique Marble work beautifully when paired with painted walls – try out pale greys or blush pinks.
Whether your bathroom is large or small, the use of marble effect waterproof panels will transform it into an elegant and sophisticated space. And if you are joining several panels together, the precisely engineered Hydrolock® tongue and groove joining system from Multipanel will give you an almost seamless and totally waterproof joint between panels. Meaning you can create an expanse of "marble" with no need to use intervening profiles, making your bathroom look and feel bigger and brighter. 
Hydrolock® is available with wall panels from the Linda Barker, Classic and Hertitage Collections. These panels also benefit from the backing of a 30-year guarantee.
The finishing touches
Why not reinforce the sophisticated look by teaming your choice of waterproof panel design with flooring from the Click flooring range. Designs such as Toscana Marble and Lombardia Marble not only look stunning but can withstand the toughest of use. The interlocking flooring components can be fitted together effortlessly with no need for adhesive. These luxury vinyl tiles are slip resistant and warmer and quieter underfoot than natural marble.
So, if you are looking to create a marble effect bathroom but don't want the expense and maintenance associated with installing natural stone, achieve the look you are after quickly and effortlessly with Multipanel.