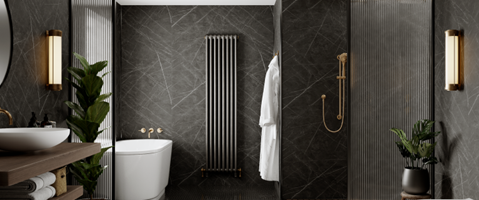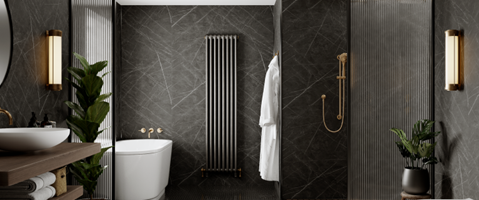 Looking up: bathrooms with high ceilings
A large bathroom can sometimes look or feel cold and empty. There are, however, steps we can take to retain the added height and make a feature of it….
Order samples
A large bathroom can sometimes look or feel cold and empty. There are, however, steps we can take to retain the, added height and make a feature of it….crucially you need to blend the upper and lower areas by drawing the eye upwards.

A stylish and prominent light fixture with appropriate IP rating* in 'the smallest room in the house,' may seem over the top but this can be a quick way of adding a sense of luxury and warmth. If walls are higher than our 2.4 metre panel height, don't be tempted to add partial panels to reach the ceiling. Paint the wall above the bathroom panel instead, using the same colour as the ceiling. This unifying colour visually lowers the ceiling height and prevents the appearance of an elongated, 'too tall' room. 
It is also essential that any window blinds or shutters reach ceiling height, any lower and a division is created making the upper area appear disconnected from the lower part of the room.
When thinking about hanging mirrors and pictures, go for larger items, but remember that traditional canvas or paper prints will deteriorate quickly in a hot and steamy environment —ceramic and steel pieces of art will be more durable in bathroom conditions.

We always underestimate the amount of paraphernalia we need to tuck away in our bathrooms – some of it beautiful and worthy of display; whilst some of it is definitely not for show! Try to have as much storage as possible – wall mounted units or shelves will look less cluttered than floor standing ones. Shelving used creatively can make a big impact: floating shelves of different sizes, arranged at different heights work well in showing off prized ornaments rather than medicines and face lotions.

An injection of foliage is the perfect way to breathe life into a functional and sterile bathroom. Steam loving houseplants such as the Staghorn Fern and Bromeliads enjoy warm and humid conditions making them perfect for greening up the bathroom. Additionally, the aerial roots of ivy will, with a little encouragement, climb a trellis. This will not only look great but also help to improve indoor air quality.
I'd love to hear how you get on with your bathroom makeover – so do drop me a line and maybe share a photo or two showing your fantastic bathroom transformation.
Linda x
If you're interested in the new Linda Barker Collection of bathroom wall panels you can view our latest brochure.
Keep up to date with our latest on Facebook, Instagram or Pinterest and sign up for our newsletter below.
_______
*For bathrooms it is essential that only lighting with the appropriate IP rating is used. IP (Ingress Protection and International Protection) ratings are used to define the degree of protection of sealants against moisture and dirt. Each IP rating has two digits; the first rates effectiveness of sealants against solids and the second against water. The higher the number, the greater the protection. Different zones in a bathroom will be exposed to different levels of moisture, so the IP rating of the light fitting selected has to be appropriate for the area in which it is to be installed. Lighting suppliers will be able to provide details of IP ratings on the products they stock.