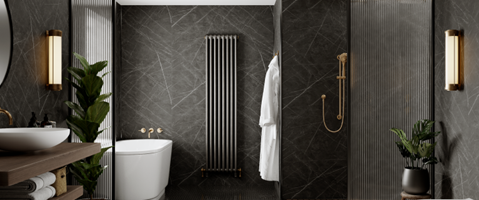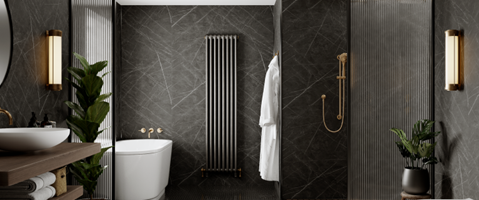 Precision manufacturing techniques, which ensures of a watertight fit between panels, contribute to the enduring appeal of tongue and groove systems, particularly for areas which need to be waterproofed. The patented Hydrolock® tongue and groove panel joining system, available only from Multipanel, is a great example that features in the beautiful waterproof wall panels from the Linda Barker, Heritage and Classic Collections.
When joining these panels together, Hydrolock provides an almost seamless wall surface. With Hydrolock, there are no obvious panel mid-joints to draw the eye. Instead, you have a fabulous uninterrupted and completely waterproof stretch of the most impressive wall surface.
What's more, with such an amazing range of colours, textures and designs, all with the Hydrolock tongue and groove system, you can give your imagination free rein to design a truly unique bathroom space – be that the ambience of the luxury spa by convincingly replicating the look and feel of massive slabs of stone, wood or marble.
How do you install tongue and groove wall panelling?
Multipanel Hydrolock tongue and groove waterproof wall panels are super-easy to install and can be fitted directly on top of existing tiles, stud walls, wood or even concrete and are ready for use in just 24 hours. Furthermore, if your walls are less than straight, you can still benefit from a perfectly flush finish as panels will tolerate a bow of up to 6mm.
Hydrolock panels come with a tongued edge and a grooved edge. Simply fit the grooved edge first and angle in the tongued edge of the adjoining panel, then push until panels click into place for a discreet watertight joint.
Eco friendly bathroom walls
Multipanel waterproof tongue and groove panels are an eco-friendly choice for redecorating your bathroom, wet room or shower room. Panels are manufactured in the UK from Forest Stewardship Council® (FSC®) C128180 certified materials, which means that every step in the supply chain is tracked, providing you with the confidence and assurance that you are purchasing a sustainably sourced product, and one that is subject to stringent quality control.
And, although panels come with a 30-year guarantee, it's nice to know that they are also 100% recyclable.
Tongue and groove bathroom flooring
Click vinyl flooring, also from Multipanel, offers the authentic look of tile, stone and wood. Here too, the tongue and groove concept has been efficiently applied to ensure a snug watertight fit.
Click vinyl flooring is available in either tile or plank format, both of which are suitable for fitting on top of underfloor heating. Interlocking installation is easy. No glue or underlay required. Simply click the planks or tiles into place: job done!
Like the Multipanel wall panels, there is a wide range of styles to choose from. Sicilia, for instance, will help you create a spacious elegant look, while one of the timber effect vinyl planks, such as Classic Oak or American Walnut work well for achieving a more traditional style.
Multipanel click flooring is warmer underfoot than traditional floor coverings and its slip resistance makes it a much more practical solution.
Designed to withstand the toughest use, waterproof Click flooring features a commercial grade 0.5mm wear layer and is coated with ceramic beads for a slip-resistant durable finish for long-lasting good looks.
Tongue and groove bathroom ceilings
Often the poor relation in our decorating efforts, ceilings, neglected or treated only with just a quick lick of base white paint, can let the look of your freshly decorated bathroom down. Issues of cracks on the plaster and peeling paint can however be cured using tongue and groove ceiling panels from Multipanel.
Installation of a sleek gleaming durable waterproof PVC ceiling provides the perfect finishing touch to any bathroom. Installation is quick and easy with the tongue and groove system. Using the step-by-step installation guide, a competent DIY enthusiast can certainly complete the task. Measuring 2700mm x 250mm the rigid PVC panels, which are 8mm thick, are easy to handle and can be locked into position to give a high-end professional finish.
The full works
When it comes to renovating your bathroom or giving it a quick refresh, try to bring some cohesion to your project by considering everything: walls, floors and ceilings. The tongue and groove concept, when applied will give you quick and impressive results that will last for years to come.