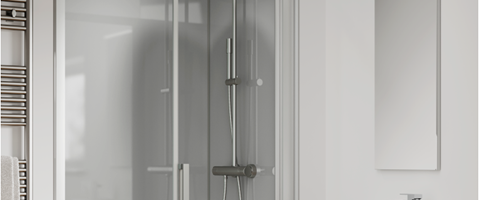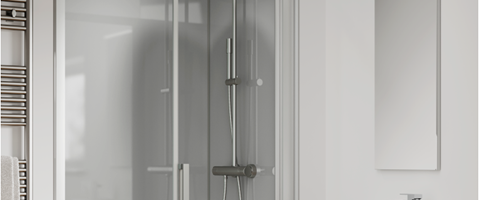 Glass effect bathroom wall panels
Whilst a bathroom clad in glass or mirrored wall tiles might look beautiful, keeping reflective and somewhat fragile wall surfaces clean and intact will be a challenge.
The look and feel of glass
There is however another route to achieving the brightness, deep lustre and smoothness of glass on your walls. Faux glass panels made from acrylic offer a robust, yet equally beautiful alternative to the real thing. Easy to install, the Multipanel Reflect Range of waterproof panels offer all the properties of coloured glass for a fraction of the price.They can be installed in about a third of the time it would take to install ceramic or mirrored tiles, and thereafter require only minimal cleaning – an occasional quick wipe with a damp cloth is all it takes – no buffing up, no rubbing, just beautiful smear-free walls.
If what you want is an ice-cool ultra-modern look to your bathroom décor, installing Reflect waterproof panels with their sleek, lustrous finish will literally light up your room, providing brightness where perhaps there was none, imbuing your bathroom with sophistication and minimalist style.
These 4mm thick dual layered glass effect panels are available in a choice of colours: white; aqua and grey. The exact colour-matched profiles (aluminium batons fitted at panel joins) are also recommended where multiple panels are being installed.
A versatile waterproof solution for shower and bathroom walls
More than functional, more than just practical, gorgeous Reflect panels are great for wet areas – around the bath, in shower enclosures or around the sink, where they provide the perfect complement to almost any décor, including plain painted or wallpapered walls. Panels can be mixed and matched –white and grey panels, for instance, look great together. Additionally, you might consider using them throughout the entire bathroom for an ultra-clean minimalist look.
Unlike tiles, the installation of Multipanel high gloss acrylic waterproof wall panels doesn't require the services of a specialist tradesman, and because they can be fitted in about a third of the time it would take to tile, labour costs can be kept to a minimum.
Measuring 2440 x 1220mm, Reflect panels are easy to cut for the perfect fit. And in the interests of economy, you can fit any leftover panel pieces around the sink or in that awkward little space.
Are acrylic shower and bathroom panels better than glass?
Reflect panels are an excellent choice as they offer the following benefits:
 A completely waterproof solution for bathrooms and wetrooms
Versatile – can be used in combination with other decorating materials or co-ordinated with other panel options from Multipanel (see for example, the Multipanel Tile range).
Quick to install – newly panelled high splash areas are ready to use within 24 hours.
Superb, professional result.
Virtually no maintenance – because there is no grout, the risk of mould is eliminated. A quick wipe down with a damp cloth is all it takes to have great looking panels well beyond the day they were installed.