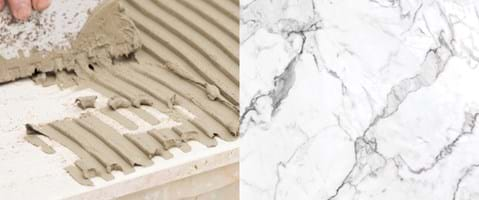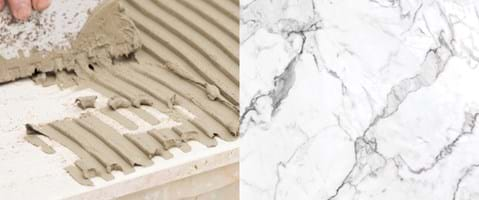 Stone Effect Bathroom Wall Panels
One reason for the increasing popularity of waterproof bathroom wall panels is that they come in an increasingly wide variety of sophisticated designs to suit bathrooms of all types, including a stone effect.
When redesigning your new bathroom or shower room, you may well be looking at the possibility of recreating the look and feel of those high end spas or of the bathrooms you find in boutique hotels, which feature materials such as marble or granite long associated with luxury and opulence. Covering your own bathroom from top to bottom in these natural materials will undoubtedly add a sense of grandeur to your space, but this level of luxury will come with an eye-watering price tag.
Benefits of Stone Effect Bathroom wall panels
Whilst using natural stone will always have its adherents, there are well documented drawbacks when it comes to incorporating it into residential bathroom design. Marble for instance, is a relatively soft and porous stone and as such, is highly absorbent, and over time, prone to discolouration and staining unless properly sealed and maintained.
These practical considerations coupled with the environmental concerns regarding the impact of mining and transportation may well prompt you to think again about the merits of featuring real slate, granite, or marble in your bathroom.
How do you make a stone effect wall?
The environmental impact of your refurb can, however, be lessened by opting for marble or stone effect waterproof wall panels from Multipanel. These panels faithfully mimic the look and texture of real stone, helping you create a stunning space without it literally costing the earth.
Wall panels from Multipanel's Classic, Heritage and Linda Barker collections are manufactured in the UK from responsibly sourced timber and are FSC and PEFC certified. They are also backed by a 30-year guarantee and are 100% recyclable.
Are stone bathroom panels waterproof?
The Linda Barker Collection from Multipanel includes a range of designs inspired by the natural world. Completely waterproof, décors such as Stone Elements combine an elegant high-end feel with an ultra-modern industrial look. If, however, a natural marble look, is more to your taste, Calacatta Marble and Bianca Luna will fit the bill. And, for the authentic look of granite, Dolce Macchiato or Jet Noir, with their polished finishes beautifully emulate the elegance and prestige of real granite slabs – all at a fraction of the cost.
The elegant gloss finishes of natural and precious stone décors such as Cappuccino Stone from Multipanel's Classic Collection have richness, warmth and depth, while the textured stone options from the same range such as Riven Slate will convince you that they have come straight from the quarry.
You can of course use the same design throughout your bathroom, or why not achieve a real wow factor by creating a feature stone-effect wall and pairing it perfectly with a complimentary design from Multipanel's Classic, Heritage or Neutrals Collections. All panels from these ranges come with the option of Multipanel's unique watertight tongue and groove Hydrolock® joining system, which result in barely visible joints between adjacent panels.
Complete the spa-inspired bathroom of your dreams with the addition of some foliage. This is a quick and easy way to soften what could otherwise appear a functional space. Opting for plants that enjoy warm and humid conditions will not only make your new bathroom look great but will also help to improve indoor air quality.
Multipanel waterproof bathroom wall panels add more than a touch of luxury to your bathroom design. And while you will find that creating such a fabulous look isn't uber expensive, the superb results you achieve using Multipanel will say that it is.

Create your perfect combination with bathroom planner at multipanel.co.uk/bathroomplanner