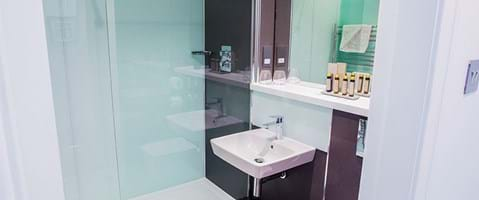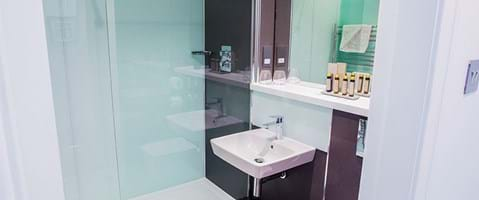 Red Hall Hotel - Bathroom Retrofit
Red Hall Hotel
The Red Hall Hotel in Bury, Lancashire holds 37 beautifully furnished bedrooms with style and comfort in mind.
The overall aesthetic displays a modern, boutique feel and is branded as 'a home away from home'.
Multipanel were called upon as part of a bathroom refurbishment project at the Red Hall Hotel. Initially, this was to be a trial run, however, this progressed to Multipanel being used throughout the whole hotel.
Housekeeping and reception have stated that since installing Multipanel, the overall look of the bathrooms is more contemporary and spacious.
Not only are Multipanel products easy to install, but they are easy to clean, which is essential within the Hotel sector due to the volume of people staying at the hotel each week.

Feedback has stretched further than employees with customers admiring the aesthetic and practicality of Multipanel and enquiring where to buy materials to upgrade their personal bathrooms.
"Our Interior Designers specified the Multipanel products on a sample room we have just completed. Grant Westfield were very accommodating and carried out a site survey visit to assist me with placing the initial order. The time taken to complete is considerably less than using conventional tiles which is also a big plus. The finished en-suite looks amazing along with being very easy to maintain. The feedback from our regular guests has been very positive indeed. We now intend to roll out a 25 bedroom refurbishment programme using this product as well as being considered for any future en-suite refurbishments." Tim Kilroe - Managing Director (Bethell Group PLC)
---
If you know someone who may be interested in this hotel refurbishment case study, please share on LinkedIn.
---
 Switch to waterproof panels and save time, and money
Multipanel waterproof wall panels are three times quicker to install than traditional tiles
Switching from tiles could save you £30 per m2 on your next project
Perfect for luxury hotel bathrooms and contemporary shower cubicles
No grout and simple to clean
30-year guarantee
Supplied on a just-in-time basis to hotel builds & renovations
---
If you are looking for improved turnaround times, stunning long-lasting design and quality, then Multipanel products are definitely for your hotel's bathroom refurbishment programme.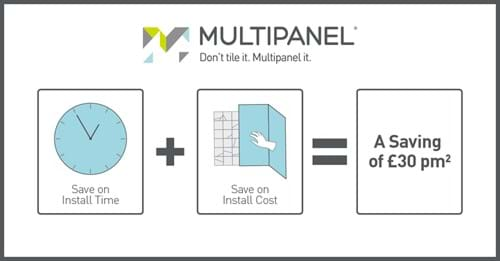 Contact our team today to discuss the time and cost benefits of Multipanel.