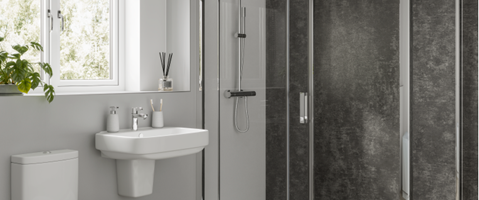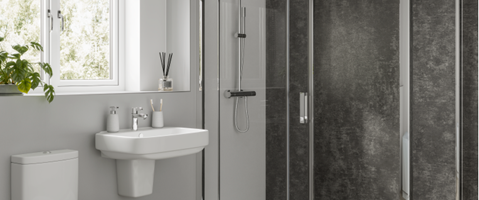 Perhaps because it is viewed as more of a challenge than other rooms in the house, the bathroom can often be side-lined when it comes to redecorating. Repainting the hall or changing the bedroom wallpaper may be within your DIY capabilities, but re-tiling the bathroom might require paying for the services of a specialist.
Where do you start when remodelling your bathroom?
Planning is key to a successful bathroom renovation. There is so much choice, so many distractions. You want to take time to get it right. Here are a few things you might consider:
On the practical side Think about your requirements for storage and display – how much should be on show and how much tucked away?
Light If your space is dark, choose wall coverings that reflect light.
Who uses the bathroom? If you have boisterous kids in your household, consider vinyl flooring that helps to dampen noise and is warm underfoot. Slip-resistant flooring is also a good idea for households with older relatives.
Ongoing cleaning and maintenance Choose décor that is both easy to clean and durable – remember your bathroom gets a lot of traffic.
Style The bathroom should be a tranquil environment, so avoid loud colour clashes. Order up swatches of potential wall panels, mull them over for a while before making your final choice.
Affordable bathroom renovation
The advent of waterproof bathroom panelling means that renovating the bathroom is no longer as daunting or as expensive as it might once have been. Waterproof wall panels from the market leader, Multipanel, can be fitted onto almost any surface: concrete, stud- wall or even over existing ceramic tiles. This means that there's no need to spend time and energy chipping away at your old tiles, and then repairing the inevitable damage done to the wall, before you can get on with realising your design.
Installation takes about about a third of the time of tiling a comparable surface and walls can be ready to use in as little as 24 hours. And, because fitting the panels doesn't require the services of a specialist tradesman, you might also be able to save on the overall cost of your bathroom renovation.

Ideas for bathroom remodelling
So, what sort of bathroom will you go for? Maybe a traditional look or perhaps something altogether more edgy. Whatever look you opt for, you will almost certainly find the perfect match for it from the many textures colours and designs of waterproof wall panels now available. Use panels on their own or mix and match them with other wall coverings to achieve dramatic contrasts. In non-wet areas, for instance, painted walls work well as does a bold splash of patterned wallpaper.
Available in three widths 1200mm, 900mm and 598mm, Multipanel is easy to cut to fit and any leftover pieces can be used elsewhere – great as a bath panel, or behind the sink.
If you love the look of the top-end hotel bathroom or a luxury spa, go for one or a combination of the 13 fabulous designs from the Linda Barker Collection from Multipanel. With these wall panels, you get the authentic look of real stone and marble, but at a fraction of the cost. Check out Calacatta Marble or Nero Grafite
An ultra-modern industrial vibe can also be easily created with the likes of Corten Elements from the same collection.
Another hugely popular design, Salvaged Planked Elm, has a slightly weathered look that will bring warmth and texture to your bathroom renovation.
Choosing modern gloss panel designs such as Frost White or White Snow from Multipanels Classic Collection give you spectacular light reflection, and their use in smaller spaces will enhance the room's dynamics; adding vibrancy to your space.
If you long for a charming period-style bathroom, the subtle colour harmonies of the Heritage Collection from Multipanel can be teamed with wood effect panels such as Delano Oak to achieve clean lines and a fresh look.
All panels in the Linda Barker, Classic and Heritage Collections come with the option of Hydrolock®, the innovative watertight tongue and groove panel connection system that's available only from Multipanel. The nice thing about Hydrolock is that it offers a virtually seamless finish to your design: adjoining panels click into place to guarantee a water-tight seal. 
Wall panels in these collections also come with a 30-year guarantee and are manufactured using Forest Stewardship Council® (FSC®) C128180 certified materials.
The full bathroom renovation
Of course, revamping your bathroom walls often means that the flooring will also need to be tackled. Click Flooring from Multipanel can be fitted together effortlessly with no need for adhesive. Luxury vinyl tiles mimicking the natural beauty of real stone and marble, or timber effect flooring planks provide beautiful hard wearing and slip-resistant flooring that is warmer and quieter underfoot than the natural alternatives.
To quickly complete your bathroom renovation Multipanel also produces a range of paint and plaster free ceiling panels. These sleek easy to install panels are available in a range of finishes to match the waterproof wall panel range. And like the wall panels and flooring are super easy to clean and maintain.