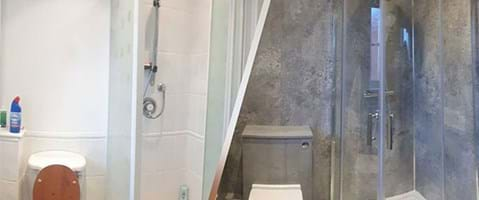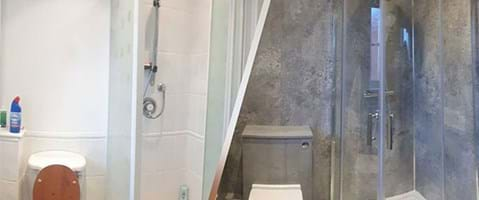 We all make heavy demands on our bathroom spaces so it's no surprise that with heavy use over time, tiles can look tired and grubby. Unless you follow a very strict cleaning regime, tiles are difficult to keep looking fresh. It's not so much the tiles, but more the grout lines between them; prone to discolouration and cracking over time, that can pull the look of your bathroom down. Grout can also be a focus for mould growth.
So, if you feel you have put up with those old mouldy tiles for long enough, know this: you don't even have to go to the hassle of removing them when covering old bathroom tiles. No need to hack and chip away instead, you can opt to fit bathroom wall panels straight over your old tiles to cover them up.
Suitable for all types of bathrooms, waterproof wall panels can be fitted directly onto almost any surface - wood, concrete and even on top of those unloved old tiles.
The result: a luxurious sophisticated look that doesn't require the intensive maintenance of tiles.
Bathroom wall panels offer a quick, grout less installation that means your bathroom renovation can be achieved in a third of the time required were you to replace your old tiles with new.
Where to start? No better place than the market leader…
Multipanel are the UK's leading waterproof wall panel brand, offering you an impressive choice of bathroom wall coverings – think stone, marble, timber, or tile effect panels, that can be fitted on top of almost any surface to achieve a fabulous look.
Fitting Multipanel shower panels is fast. There's no need to grout or wait for grout to dry – meaning you'll be able to hop into your newly panelled shower area within 24 hours of installation.
Multipanel wall panels are a lot less effort to clean and maintain than the ceramic tile alternative; a quick wipe down will keep your panels looking as good as the day you had them installed. And with no need to remove or replace discoloured, cracked or mouldy grout, you'll find yourself happy to spend more of your time escaping the stresses of the outside world in your beautiful new space.
What can I use to cover tiles?
The Multipanel Tile Range, with texture and faux grout lines, these panels are only 4mm thick and so are the perfect solution for bathroom tile covering.
For a more opulent look, wall panels from the Linda Barker, Classic and Heritage Collections from Multipanel can help you achieve the luxurious look of large-scale marble or granite for a fraction of the cost of the real thing. Panels in these collections come with our unique Hydrolock® tongue and groove joint, creating the amazing illusion of one seamless wall surface – meaning you'll be hard-pressed to see where panels meet.
Panels in these Collections are also an eco-friendly choice for redecorating your bathroom, wet room or shower room. Manufactured in the UK from Forest Stewardship Council® (FSC®) C128180 certified materials — every step in the supply chain is tracked, providing you with the confidence and assurance that you are purchasing a sustainably sourced product.
And, although these panels have the added benefit of a 30-year guarantee, it's nice to know that they are also 100% recyclable.
So, whatever your taste – old-school tile, urban chic, classic sophistication, relaxed elegance, Scandi or Japandi - you will realise your design vision with Multipanel shower panels.
Multipanel: the modern alternative to traditional tiling.