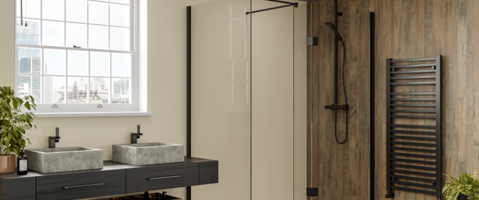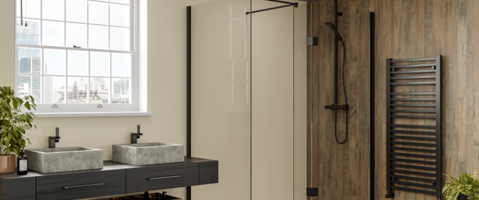 Scandi style grows up
For me, the Scandi style is typified by the judicious use of simple colours and basic materials. Principally the look favours white paint, white tiles and blonde wood, it's a style that'll always work in a bathroom space and it naturally works with our lifelong love affair with white sanitary ware and chrome taps.
So are we done here? Well, not necessarily, I feel that the look has grown up a little over the past year or so, and although we're still seeing lots of the pared back clean lines as per our favourite Scandi store Ikea, there's a moodier vibe creeping in.
Darker charcoal colours chosen for either the floors or the bathroom panels makes for a grown-up version of our favourite Scandi look. There's still lots of natural brightness, but I think the darker walls really move this look on to how we're wanting our bathrooms to look in 2019.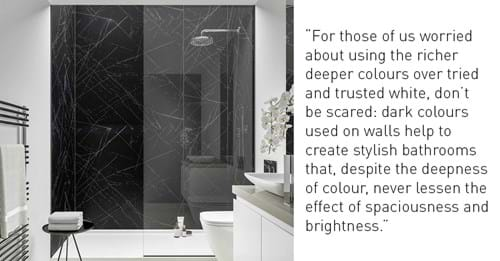 For those of us worried about using the richer deeper colours over tried and trusted white, don't be scared: dark colours used on walls help to create stylish bathrooms that, despite the deepness of colour, never lessen the effect of spaciousness and brightness. When, for example, I see my Ferro Grafite or Nero Grafite panels in use, I wonder why anyone wouldn't want to use a dark colour in a bathroom.
When paired with painted walls and white floors, the darker walls can have a powerful impact on a bathroom. The key to getting the look right is to know that you needn't add shower panels every wall - I favour one or two walls over all four.
Stylish waterproofing
The shower cubicle is an obvious place to start of course, of our wall panels make this heavy use area, guaranteed waterproof; but I encourage people to also make a 'hero' of the basin and/or the bathtub by cladding the wall behind both with the darker panels too. It can really bring a contemporary look to the bathroom.
For longer expanses of walls such as feature walls or over the bath the clever Hydrolock tongue and groove joining system is ideal to create virtually seamless joints. 
Choose your favourite white sanitary ware or re-use your existing pieces if they are still serviceable. Then, a quick changeover of taps and wastes, if they need changing, for an instant refresh which keeps a bathroom refit very cost effective.
Black taps and showers are much more mainstream nowadays and you'll see lots of examples of inspiring room sets on Instagram or Pinterest, using black accessories, encouraging you to make the switch. Or just open any home interest magazine for further encouragement.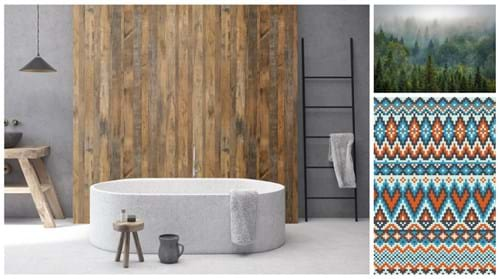 The beauty of timber
Wood accessories will ground everything beautifully, and be bold here too, you don't necessarily need to favour the paler traditional, blonde woods. A darker timber, like walnut, will still add to the Scandi look while creating a modern vibe.
Where's the loo roll
Wooden wash stands are my favourite when using countertop basins; long timber shelves that hold all your bathroom essentials, also look great in a bathroom — I'd place the less attractive of these in natural woven shopping baskets or tote bags (these can hang from door hooks on the back of the door) and I like to hide the loo rolls in large lidded containers, I have an oversized black ginger jar that holds six loo rolls and still manages to look elegant on my bathroom floor, without drawing too much attention.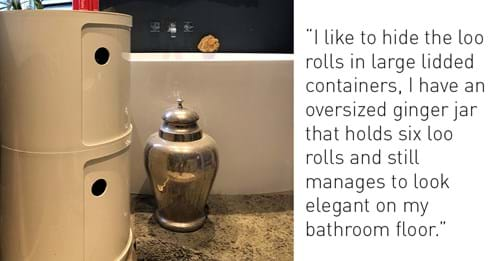 Look out for unusual containers at vintage shops or boot fairs, a little bit of the unconventional will go a long way to create the bathroom of your dreams.
Linda x