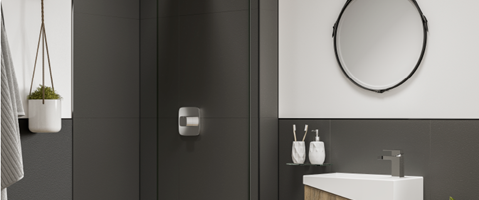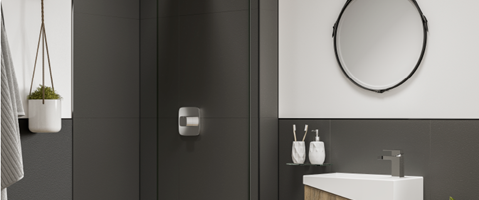 Should a bathroom be fully tiled?
No, it doesn't have to be. Traditionally, tiles are used in wet areas of a bathroom (around the bath and within the shower enclosure) as a means to waterproof walls but there are now alternative materials to add a decorative, waterproofing to bathroom walls.
Traditional ceramic tiles (or more specifically the grouting between the tiles) can, over time, discolour and crack providing the perfect environment for mould to work its way into the wonderful space you have worked so hard to create.
Advances made in the design and build quality of waterproof wall panels in recent years has helped make them a stylish and modern alternative to tiles for many savvy home decorators. In addition to being hard wearing and durable, waterproof bathroom wall panels from the brand leader, Multipanel, offer the following advantages over tiles:
Completely waterproof
No grout required – offering you a simpler and quicker installation than tiles
A host of colours and designs to choose from, many of which flawlessly mimic the look and feel of natural materials such as stone, marble and wood
They can be fitted directly on top of almost any surface – wood, concrete, stud partitioning, and even on top of existing tiles. No need to spend time chipping away at the old tiles – just cover them up!
Quick to fit – Multipanel shower wall panels can be fitted in less than a third of the time that it would take to fit tiles. Wet areas are ready for use within 24 hours – a big plus if you have only one bathroom.
Easy to fit – Hydrolock, Multipanel's unique tongue and groove installation system, make it easy to fit the panels on any surface. This means the services of a specialist tradesman are not required for installation
Bevelled walls present no problems –bathroom panels from our manufactured collections come with Hydrolock, you can achieve a flush finish even on walls with a bow of up to 6mm
What is the best material to use for bathroom walls?
Whilst good looks might be your primary consideration, you should also check out the integrity of the waterproof panel prior to making a final choice. Watch out: not all shower panels are created equally.
Shower panels must combine beauty, waterproofing and durability. With Multipanel, the most advanced design and manufacturing techniques are utilised to meet these quality criteria. Bathroom Wall Panels in the Linda Barker, Neutrals, Heritage and Classic Collections use hard-wearing bonded high-pressure laminate with a 9mm Forest Stewardship Council® (FSC®) C128180 certified core. This provides structural integrity, providing a completely waterproof finish that's backed by a 30-year guarantee. 
All panels in the Neutrals, Linda Barker, Classic and Heritage Collections come with the option of the unique Hydrolock® wall panel joining system which gives your bathroom design a virtually seamless beautiful watertight finish.