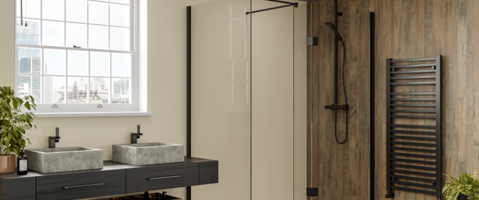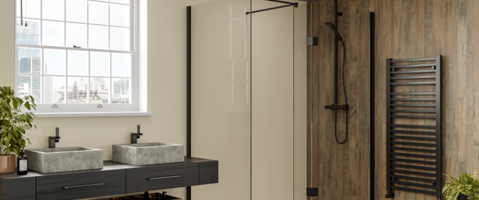 You may be surprised to discover how easy it is to introduce a superb level of quality and luxury to your bathroom renovation project, without the need to remove a single tile.
Forget about chipping away at those tired old tiles and running the risk of unintentionally removing half the underlying plaster. There's a much faster approach to improving your bathroom. One that guarantees beautiful and durable results.
This modern and practical advance in bathroom decorating materials are waterproof bathroom wall panels. These offer a quick, easy and grout free way to transform your bathroom without retiling or tile removal. No grout, no hassle.
How do you update tiles without removing them?
Multipanel waterproof shower panels come in a range designs, colours and textures and they are fast and easy to install. Fit them directly on top of almost any sound surface - concrete, stud wall or even over existing tiles and unlike retiling, your newly panelled bathroom will be ready to use in just 24 hours.
If covering up tiles, it's likely that they will provide a pretty flat, straight surface to work on. However, no problem if this isn't the case, as the unique Hydrolock® tongue and groove system that features in the Neutrals, Linda Barker, Classic and Heritage Collections of 100% waterproof shower wall panels from Multipanel, will allow you to achieve a perfectly flush finish. The Hydrolock® system works wonders in masking any number of issues you might have with bumpy and bevelled bathroom walls.
How can I cover tiles cheaply?
Waterproof wall panels offer a truly versatile decorating solution for updating your bathroom. They are predominantly used in the wet areas (shower, bath) but they can be used on every wall; paired with different decors or even pair them with painted walls. There are so many options to suit different budgets.
The panels are 2400mm high and come in three widths - 1200mm; 900mm; 598mm – and are easy to cut for a perfect fit. For a co-ordinated look, you can fit any leftover panel pieces around the sink or in any awkward little spaces. Using the same Multipanel design as a bath panel will also give you a great look.
Think of the time you'll save by covering up your tiles rather than chipping away at them. What's more, unlike tiles, installation of Multipanel waterproof wall panels doesn't require the services of a specialist tradesman, and because shower panels can be fitted in a third of the time it would take to tile, labour costs can be kept to a minimum. 
The thought of repeating the whole bathroom redecorating exercise next year or the year after isn't that appealing, so it's important to choose materials that provide low maintenance and durability. On both fronts, you couldn't opt for a better product than Multipanel. Multipanel requires no grout, so the risk of mould that arises with tiles is completely eradicated – the occasional quick wipe down with a damp cloth is all that's required to maintain their impressive good looks for years to come.
Bathroom panels in the Neutrals, Linda Barker, Heritage and Classic Collections from Multipanel are made from Forest Stewardship Council® (FSC®) C128180 certified materials and they are backed by a 30-year guarantee. And unlike inferior PVC panels, our panels are 100% recyclable.
Multipanel waterproof panels can be used to create a luxurious contemporary look for shower rooms and bathrooms of all shapes, sizes and budgets. Whether you are after a quick refresh of your bathroom décor or a complete revamp, Multipanel 100% waterproof wall panels are the smart way to go.