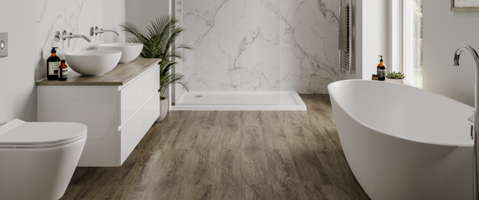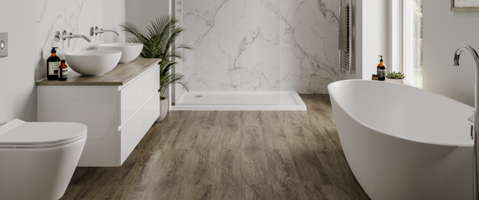 When considering the best flooring for bathrooms, of the factors that must be considered, water resistance and durability are the most important. Regardless of your budget, the materials you choose must possess these properties.
Choosing the best material for bathroom floors
As one of the most frequented rooms in the home, the bathroom must be able to withstand a high volume of traffic and more than a little punishment. So, when thinking about flooring, ask yourself whether the floor covering ideas on your shortlist will not only look great and fit in with your design aesthetic, but also whether you can expect them to cope in the moist and humid environment of your bathroom.
Bathroom vinyl flooring is a great waterproof solution for high traffic settings where cleanliness is paramount, and you want to keep your cleaning and maintenance regime to a minimum.
Is Vinyl Floor Good for Bathrooms?
Luxury vinyl flooring from the Multipanel flooring range is very low maintenance: water or any other spills are easily dealt with and, unlike ceramic or stone floor tiles, there are no grout lines to capture dirt. Comfortable underfoot; you won't need to worry about noise as the tiles are quiet to walk on, a particular bonus if yours is a busy household with boisterous kids.
Vinyl flooring is slip resistant and they are also warmer to the touch than ceramic or natural stone floor tiling - a big plus on those cold winter mornings.
Beautiful flooring that clicks into place
Both beautiful and surprisingly affordable, click vinyl flooring is quick and simple to install, which helps minimise the disruption and time that your bathroom is out of action. And, you can forget about adhesive, nails, or screws. With click flooring, there's no need for them. With its unique precision interlocking tongue and groove system, simply apply a little pressure to effortlessly join the tiles together for a smooth, professional look. And all done in a fraction of the time it might take to install more traditional flooring options.
Designed to mimic the natural beauty and texture of real stone and marble, click flooring tiles are available in variety of finishes and textures to complement any décor, and the click collection of timber-effect planks captures the richness and luxury of real wood.
Vinyl bathroom flooring is also suitable for installation on top of underfloor heating. The tiles measure 605 x304mm, while the dimensions of the plank format tiles are 1210 x 190 x 5mm. Multipanel bathroom flooring features a commercial grade 0.5mm wear layer and is coated with ceramic beads for a slip-resistant durable finish that will stand up to the toughest use and look good for years to come.
Blending style affordability and practicality, vinyl bathroom flooring, lets you create a beautiful contemporary look faster and easier than you might ever have imagined.