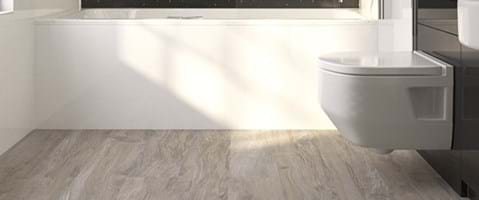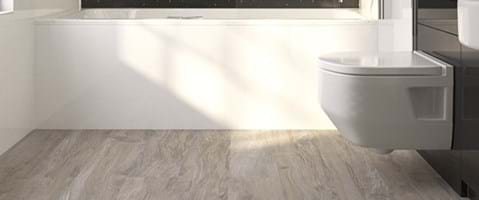 Style conscious homeowners are increasingly turning to Multipanel when updating their bathrooms, with more and more having discovered that they can quickly achieve a beautiful and affordable revamp; ditching their old tiled walls and switching to easy-install and totally waterproof wall panels. But why stop with your bathroom walls? Multipanel has a range of beautiful luxury vinyl flooring solutions, which are not only quick and easy to install, but also a completely waterproof alternative to bathroom floor tiles.
We probably spend more time in our bathrooms than we realise, so it's important that we make it as welcoming a space as possible. Whilst ceramic flooring tiles might look great, underfoot they can be cold.
Maintenance can also be an issue with traditional flooring. In a busy household, the odd accident will inevitably occur –a jar of face cream or mirror dropped on the floor, for instance, might result in a chip, crack or dent! Vinyl is less fragile alternative for bathroom floors.

Beautiful vinyl flooring for bathrooms that click into place
Bathroom vinyl flooring from Multipanel offers the authentic look of tile, stone and wood. The textured tongue and groove tiles and planks are warmer and quieter underfoot than stone or ceramic tiles.
Designed to withstand the toughest use, waterproof Click flooring features a commercial grade 0.5mm wear layer and is coated with ceramic beads for a slip resistant durable finish that will look great for years to come.
Interlocking installation is easy. No glue or underlay required. Simply click the panels or tiles into place: job done!
Click vinyl tiles are also suitable for use with underfloor heating.
Keep it cosy AND get the look
Trade up to luxury with a Click vinyl floor. Click vinyl tiles and planks such as Lombardia Marble, for instance, will help you create a spacious contemporary feel. If warm and welcoming is your shtick, one of the timber effect vinyl's such as Driftwood Grey Oak or rich American Walnut will work well.
For an element of drama, go for Click Sparkle flooring. This has embedded metallic foils creating lustrous shimmering, eye-catching designs. Whether you go for dramatic White Diamond or sleek Urban Anthracite Grey – you can quickly create a real wow factor in your bathroom.
If you want to achieve an amazing bathroom revamp or refresh that's high on impact, don't stop at walls when vinyl bathroom flooring from Multipanel offers you a great alternative to traditional bathroom floors, and can help you realise your vision of the perfect bathroom.