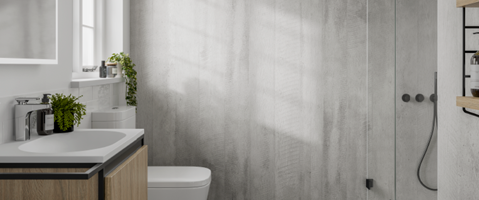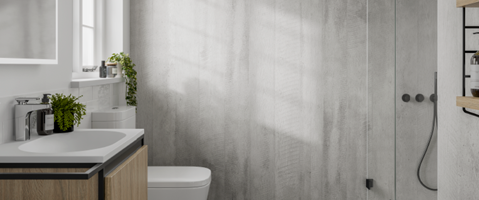 Your bathroom probably competes with your kitchen for the title of 'hardest working room in the house. So, when it comes to redecorating or renovating it, you'll want to achieve the perfect combination of practical functionality, great design aesthetics and care-free, low maintenance.
Whether you opt for the decadent roll-top bath or a roomy walk-in shower, your choice of wall covering will be central to the success of your bathroom makeover – there's no hiding place for walls, so you've got to choose what you cover them with wisely.
When considering a modern, easy to care for and stylish wall covering, you should consider shower wall panels. These are a modern alternative to bathroom tiles, and with no grout required, the risk of mould and discolouring is eradicated completely. There are many options on the market so take time to choose the right type of panel.
What is the best material for shower wall panels?
Shower panels must be impervious to the effects of water and moisture.
At the cheapest end of the market there are PVC panels, and while these provide a barrier against water, they lack a solid core, which means that they are not nearly as robust as other panels – a few bumps and knocks will likely lead to a cracked surface and water ingress. And because PVC panels have no real core substance, a snug fit on an imperfect wall is difficult to achieve.
Why choose shower panels from the market leader?
With Multipanel bathroom shower wall panels from the Neutrals, Linda Barker, Heritage and Classic Collections, you can be sure of having the best and most durable shower panels available. Constructed with a bonded high-pressure laminate with a 9mm Forest Stewardship Council® (FSC®) C128180 certified core, these panels are built to last, and come with a 30-year guarantee.
Backed by over 135 years of manufacturing expertise, Multipanel is the UK's leading brand in the design and manufacture of high-end waterproof panelling solutions.
Installing Shower Wall Panels
In comparison to tiles, Multipanel shower panels are quick and easy to install. And you needn't worry if your bathroom walls are less than perfect. Multipanel shower panels can be fitted on top of almost any surface - including bumpy or bevelled walls. Even better, they can be fitted directly on top of your existing tiles, saving you or your tradesman the time and effort of having to chip them off.
And far from just being a concealment exercise, with Multipanel, you'll be rewarded with the most exquisite contemporary bathroom walls that are durable and easy to keep in tip-top condition.
Regardless of the size or shape of your bathroom, Multipanel bathroom wall panels offer a host of decorating options. Shower panels can be fitted almost anywhere including those awkward areas around vanity units or on corners – they are easy to cut for the perfect fit.
Installation takes about a third of the time it would take to tile an equivalent area, and your walls will be ready for use within 24 hours.
Whatever look you are going for – luxury spa, classic country, urban chic or a look that hasn't been officially designated as a style, you can achieve it with Multipanel shower panels.
All bathroom panels in the Classic, Heritage and Linda Barker Collections are available with the tongue and groove joining system, Hydrolock® . Only available from Multipanel, Hydrolock® allows you to click panels together to achieve an almost invisible but completely watertight joint, allowing you to create the spectacular illusion an almost 'seamless' wall.
If you are looking for further reasons to choose Multipanel, think of the time you'll save on cleaning. Multipanel shower panels are grout free, which means that the growth of mould is completely inhibited – the occasional quick wipe down with a damp cloth will keep them looking great for years.
An environmentally friendlier option
Multipanel shower panels are manufactured in the UK using sustainable Forest Stewardship Council® (FSC®) C128180 certified materials. Every step in the supply chain is tracked, providing you with the confidence and assurance that you are purchasing a sustainably sourced product, and one that is subject to stringent quality control.