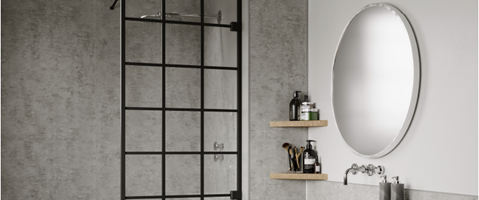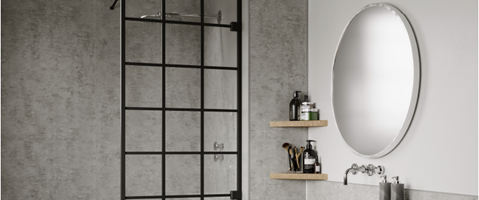 When it comes to bathroom décor, bathroom wall panels are fast becoming the number one choice for bathroom upgrades. Their increasing popularity is due to their many benefits and clear advantages over other more traditional materials such as tiles. Among these are ease and speed of installation; easy cleaning and low maintenance; and of course, the fabulous design and colour options available.
Covering bathroom walls on a budget
Bathroom panels from Multipanel offer a truly versatile decorating solution for updating your bathroom. Use them on every wall; mix and match wall panels; or pair them with painted walls. There are so many options to suit different budgets.
Linda Barker, Heritage, Classic and Neutral Collection panels come in a range of widths (1200mm, 900mm, 598mm) that can slot neatly into most shower enclosures as well as on the walls of more open plan wet rooms. And, because they are easy to cut, any pieces left over from main areas can be used to clad other areas— around the sink in a downstairs loo. With little waste, they are an economic way to cover bathroom walls.
Are wall panels cheaper than tiles?
This is not a question that has a definitive answer. Just like tiles, the cost of shower wall panels will vary depending on the style and design being considered. This price variation can reflect the cost of materials used in construction which in turn could affect the quality of the final product. As with most things the old adage generally applies: you get what you pay for.
Not all laminate panels are built to the same exacting standards, and when it comes to bathroom refurbishments, you should be confident in the integrity of the product you choose. 
With Multipanel bathroom panels there is no compromise in quality. Manufactured in the UK, bathroom panels in the Linda Barker, Heritage, Classic and Neutrals Collections from Multipanel use a bonded high-pressure laminate with a 9mm Forest Stewardship Council® (FSC®) C128180 certified core. Built to last, they come with a 30-year guarantee.
These days, consumers are increasingly interested in the provenance of the materials used in their bathroom refurbishment. Choosing natural materials such as marble or granite in your décor, for example, will not only dramatically increase the cost of your new design, but also its carbon footprint. The great news is that with Multipanel, the authentic luxury look of a marble or granite bathroom is immediately more affordable. Importantly, it is also a little kinder to the planet.
Take a look at designs such as Calacatta Marble or Dolce Macchiato from the Linda Barker Collection. They look great, and because there are no grout lines, no need to worry about cracked or discoloured grout. Battling to keep mould at bay is a thing of the past.
A warm relaxing bathroom ambience can be achieved with wood. And here, advances in manufacturing processes mean that modern waterproof wood effect wall panels really do look and feel like the real thing.
Wood effect wall panels such as Salvaged Plank Elm and Rural Oak from the Multipanel Linda Barker and Heritage Collections are less expensive and more practical than using real timber.
Like all Multipanel shower panels they are 100% waterproof and, unlike the real thing, there is virtually no maintenance to keep them in pristine condition, a simple wipe down with a damp cloth will keep them looking as good as new for years to come.
On a cost and environmental basis bathroom wall panels come out on top; panels from the Multipanel Classic, Heritage, Linda Barker and Neutral Collections are manufactured in the UK from responsibly sourced timber and are Forest Stewardship Council® (FSC® C128180) and PEFC certified.
Quick and easy — can be fitted up to 3 times faster than tiles
If you are revamping a previously tiled bathroom, going for a direct replacement means you have to weigh up the cost of employing a tradesman to remove the existing ceramic tiles and applying the new. Or perhaps your DIY skills are such that you could tackle the job yourself? Either way, tiling is not a quick option, meaning your bathroom could be out of commission for longer than you might like.
Bathroom panels can be fitted to virtually all types of surface – even over existing tiles – and installation is up to 3 times quicker than tiling an equivalent area. As wall panels offer a more straightforward installation, you not only save time, but your labour costs are also likely to come down.