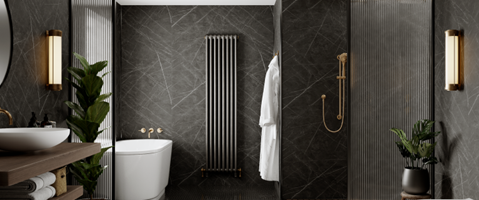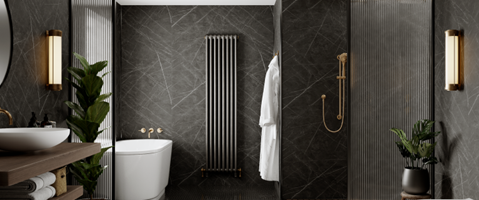 For many of us ceramic wall tiles and bathrooms go hand-in-hand, but these days when it comes to planning your ideal bathroom, don't feel you have to adopt old-school thinking.
Thankfully there's an alternative to traditional ceramic tiling that not only cuts down on the time and cost of installation, but being totally grout free, has the on-going benefit of being much easier to clean and maintain than traditional tiles. If you haven't heard of waterproof bathroom wall panels, where have you been? And if you have, and you think they're the ugly stuff your Granny had in her bathroom, think again.
In terms of design aesthetics and enduring good looks, bathroom wall panels really have come of age and are the way to go when reworking your bathroom décor.
Shower wall panels offer a quicker, grout-free installation that means your bathroom renovation can be achieved in a third of the time required were you to go down the ceramic tile route.
No need to knock lumps out of your bathroom walls by chipping away tiles
You don't know what lies beneath those old bathroom tiles you have. Will half of your wall come away if you decide to remove them? Why risk it?
The good news is that Multipanel waterproof panels can be fitted directly on top of existing tiles, stud walls, wood or even concrete, and can be ready for use in just 24 hours.
You can achieve stunning waterproof walls without the hassle of grout
With bathroom wall panels from Multipanel's Linda Barker, Classic and Heritage Collections you have enormous scope for creating beautiful luxurious watertight spaces.
Multipanel bathroom wall panels work wonders for both small and large spaces, and whether you opt for the convenience of a shower over the indulgence of a bath, the sheer versatility in the Multipanel range, makes them a great practical solution for fitting in shower cubicles, wet rooms, and over baths. And, if what you want, is a top-to-bottom co-ordinated look, you might also consider fitting panels as a bath panel – it's so easy!
In addition to there being no grout to worry about, Multipanel's unique Hydrolock® tongue and groove watertight panel connection means that you can have the luxury of a virtually seamless finish to your design.
When there's so much choice, why opt for the heavy maintenance and cleaning route?
Free yourself from the hassle of installing, then scrubbing tiles. Bring on the authentic look and feel of fossilised timber, real marble, stone or steel instead! Our wall panels convincingly replicate the look and feel of these materials – there are 46 designs and textures to choose from including gloss, matt and woven styles.
Groutless Wall Panels are Kinder to the planet
If you are looking to adopt an environmentally sustainable approach in your choice of bathroom décor, Multipanel wins hands down:
Whereas over 80% of tiles are imported, Multipanel wall panels are manufactured in the UK using sustainable Forest Stewardship Council® (FSC®) C128180 certified materials.
We track every step in the supply chain, providing you with the confidence and assurance that you are purchasing a sustainably sourced product, and one that is subject to stringent quality control.
And, although our panels come with a 30-year guarantee, it's nice to know that they are 100% recyclable.
So, if you are a homeowner who believes that bathroom renovation without tiling is simply unthinkable, think again. Multipanel wall panels are the modern alternative to tiling without grout.