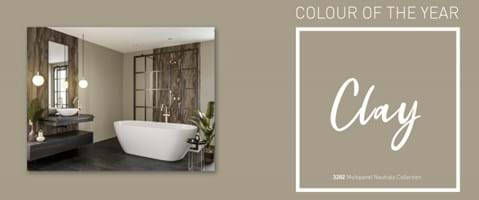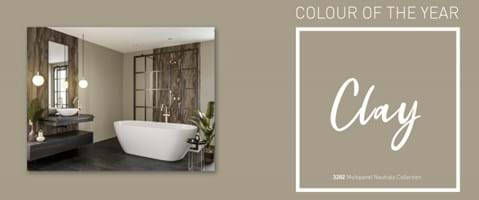 It's about this time of the year that our thoughts turn away from the great outdoors (our gardens and window boxes) and we look instead towards the interior of our homes.  For a lot of us, it might not be a pleasant sight. During lockdown many of us turned a blind eye to our tired paints and our tatty wallpapers - but now, because we're indoors again, we begin to see it all too clearly. For some there will be no ignoring that fact that they are now deeply frustrated with that lacklustre bathroom. 
To be fair, we don't need to look too far for the cause of all this niggling doubt.  Let's face it, we've all had to put every room in our homes through its paces during lockdown and now we're not always loving the aftermath.  So, as we start to cosy up our homes again, it's a pertinent time to think about the colours we are choosing to decorate with - but where to begin?  
Miraculously, as soon as the nights start drawing in, there are industry giants such as Dulux just itching to help.  September sees the launch of their Colour of the Year.  Perfect timing I'd say.  Now ask me what last year's colour was and I'd be struggling to recall (it was Tranquil Dawn) but this year I'm hungry for the news.  With much fanfare Dulux suggests 'Brave Ground' as its favourite 2021 colour.  It's a warm earthy shade which is reminiscent of clay and I must admit that I like it - quite a lot in fact.  It has a relaxed informal look which is lovely in most rooms in the home - including the bathroom, which can often get overlooked in favour of a ubiquitous cool, crisp white.
Our Multipanel Clay coloured bathroom panels are perfectly suited to creating a warm wrap around feeling in the bathroom and they chime very well with these new colour trends predictions from Dulux. Paint your bathroom ceiling and woodwork using Dulux 'Brave Ground' or even a similar earth colour from my own Linda Barker Paints range ('Throstle', or maybe 'Shallows' if you want a paler version).  

If you are planning a full bathroom refit using my Multipanel bathroom wall panels, then 'Salvaged Planked Elm' or 'Dolce Macchiato' would look sensational in the shower area and at the back of a washbasin - creating standout walls that will be much admired.  
These dusky tones all work so beautifully together.  A gentle colour palette in a bathroom is always a good thing, but to my mind the classic ' brilliant white' rarely works as well as many of us would imagine.  Instead, try these soft, earthy, sun baked clay tones - which are brilliant at creating a look that is both pared back yet stunningly striking.  
The trick is to introduce just one dominant pattern in a room (like my bathroom wall panel décor: 'Salvaged Planked Elm') and then stick to using complementary tones in the paintwork and fabrics.  Play by the rules and your newly decorated room is pretty much guaranteed to feel harmonious and calm.
As for accessories, if you really want to push the boat out then I'd choose brass fittings for taps, spouts and suchlike - as this is such a beautiful metal to combine with earthy colours.  To complete the look I suggest purchasing linen coloured towels and blinds.  Finally, if you're changing around the basin as well, then wooden cabinets and natural fibre bathmats would be the icing on the cake.

To be honest, it's not often I encourage interior decorations to follow a trend (particularly in a bathroom, that necessitates longevity) but in the coming year these down to earth shades are going to be well worth taking a closer look at, and they will certainly have staying power for years to come.  
Earth colours.  Bring the outdoors in!  Maybe I haven't really stopped thinking about my garden at all…  Happy decorating.