Completing jobs as quickly as possible without sacrificing quality is a constant challenge for installers, and many will tell you that using only high-end affordable products is half the battle in ensuring customers are 100% happy with their work.
Waterproof wall panels
For bathroom renovations, waterproof wall panels are a fantastic and lower cost alternative to bathroom tiles and are becoming increasingly popular with homeowners.
Installer, Michael Anderson, has seen a gradual move away from customers requesting ceramic bathroom tiles.
He says: "One or two customers still specify tiles, but they tend to be in a minority. The trend is definitely towards Multipanel wall panels. Customers love the look of them and like that they are easy to keep clean."
Multipanel is the largest panel manufacturer in the UK. The company lead the way in innovation, style and quality, producing over 8,000 panels each week across five different collections, including Linda Barker and Heritage Collections.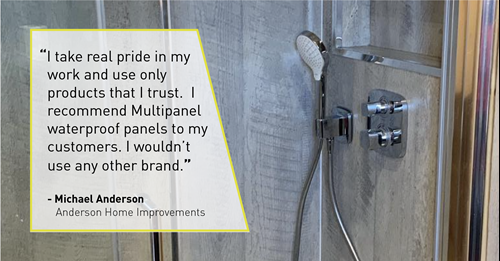 Wall panel evangelists
Installers are the real evangelists for Multipanel waterproof wall panels, increasingly recommending them to customers as the way to go for bathroom refurbishments and new builds. This is because they can be installed in a fraction of the time it would take them to tile, meaning that installers like you get the job done quickly and the customer is pleased with the high-end finish.
"I much prefer installing Multipanel. Not only are they a really good solid build, I can fit them quickly, and once they're in place, I can start fitting on to the walls almost immediately – whereas tiles take about 48 hours to set, meaning that I have to return to the job the next day. Multipanel lets me get the job done in a day – I like that and so do my customers." —Ryan Mills, plumber and heating engineer
What makes a great wall panel?
(1) Affordable luxury
The trend for more upmarket riven and textured products which emulate those found in luxury boutique hotels – slabs of stone, marble or wood – has certainly boosted the fan base for wall panels. Here, Multipanel has harnessed the huge advances in laminate print technology to create the look and feel of prohibitively expensive materials such as Calacatta marble; fossilised timber; sequoia; and patinated Corten steel. These and other materials have been convincingly replicated on Multipanel's 2.4 metre wall panels, to create high-end luxurious bathrooms at an affordable price.
Homeowner Cheryl Ferguson had Multipanel's bright white Classic Brick Tile panels installed.
She says: "They look like real tiles. You'd never guess they're not. My friend used the real ceramic tile equivalent in her bathroom and, honestly, you can't tell the difference between her tiles and my Multipanel."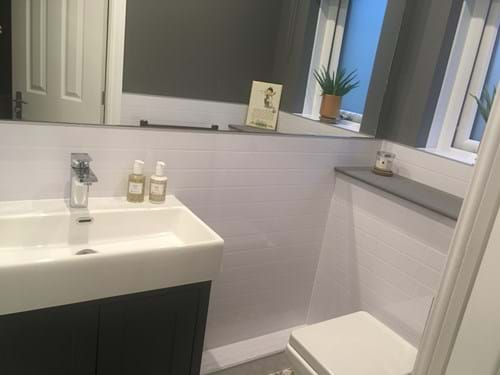 (2) Panel composition - not all panels are created equally
A wide choice of colour and finish is important of course, but crucially, you need to be sure of the integrity of the product. It goes without saying that a panel must be impervious to the effects of water and moisture. 
Michael Anderson of Anderson Home Improvements has tried out various brands of waterproof panels but, he says: "…Multipanel is the only brand I would consider using. Installation always goes like clockwork and the quality is absolutely superb."
(3) Dealing with problem walls
Your customers won't always have the benefit of perfectly straight and evenly plastered walls and they may not see value in you charging to install struts or removing old tiles and plaster. Here, your best bet is to go for more forgiving tongue and groove panels such as Hydrolock® from Multipanel.
These can be fitted directly on top of any surface including tiles, they can tolerate up to a 6mm bow on walls, and will still give a perfectly flush and near seamless finish between interlocking panels. Watch the video here. 
Why recommend Multipanel waterproof wall panels to your customers?
Minimum disruption – particularly important for instance in the hotel and residential letting sectors. Customers can expect walls to be complete and ready to use in about one-third of the time that it would be for tiles.
Impressive choice of colours, textures and finishes to suit a range of tastes and budgets.
Guaranteed quality – Multipanel's manufactured panels come with a 30-warranty.
Multipanel wall panels come in three widths – 1200mm; 900mm and 598mm – which means you can choose a panel or panel combination that fits snuggly with minimum waste. Panels can also be cut easily to size.
Manufactured in the UK using sustainable FSC certified materials (FSC® C128180).
An absence of grout means the emergence of mould is completely eradicated.
Panels are easy to clean – a quick wipe down is all that is required to keep them in pristine condition. Lastly and importantly, your customers will have a beautiful bathroom, with walls that will remain looking good for years to come.