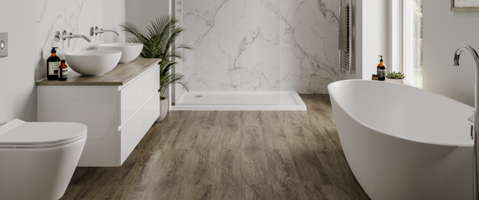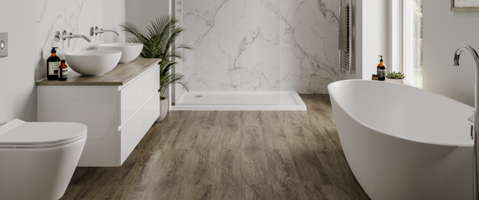 Tired of the peeling, mildew and staining misery of painted bathroom ceilings. Have you heard of waterproof bathroom ceiling panels?
Why does the paint keep on coming off my bathroom ceiling?
If you are experiencing this problem, it's more than likely that your bathroom walls and ceiling started peeling because they hadn't been properly primed. Primer helps prevent paint from peeling particularly in the humid conditions in the bathroom. In smaller bathrooms with limited ventilation, paint peeling from ceilings with the staining that goes with it can be a real bugbear. Durable waterproof ceiling panels from Multipanel are ideal for use in bathrooms and wet rooms where you need a stylish, low maintenance alternative to painting.
Bathroom Ceiling Ideas
Waterproof ceiling panels from Multipanel will give you a high impact, low cost solution and there is no ongoing maintenance required. Bathroom ceiling panels from Multipanel feature an innovative built-in protection from moisture and damp — no peeling, no flaking or cracks on show, just clean sharp lines that will look good for years.
Whether you choose to do it yourself or leave it to the professionals you should have no trouble finding the ideal PVC ceiling finish to complement your bathroom interior. There are four designs to choose from: White Ash; White Gloss; White Matt and Sparkle.
Installing Bathroom Ceiling Panels
Bathroom ceiling panels are engineered with a simple tongue and groove system which makes for quick and easy installation. Using the step-by-step installation guide, a competent DIY enthusiast can undertake the task. Measuring 2700mm x 250mm the rigid PVC panels, which are 8mm thick, are easy to handle and can be locked into position to give a professional finish in surprisingly little time.
Waterproof ceiling panels can also be particularly effective when used in bathrooms with high ceilings which are difficult to reach and maintain.